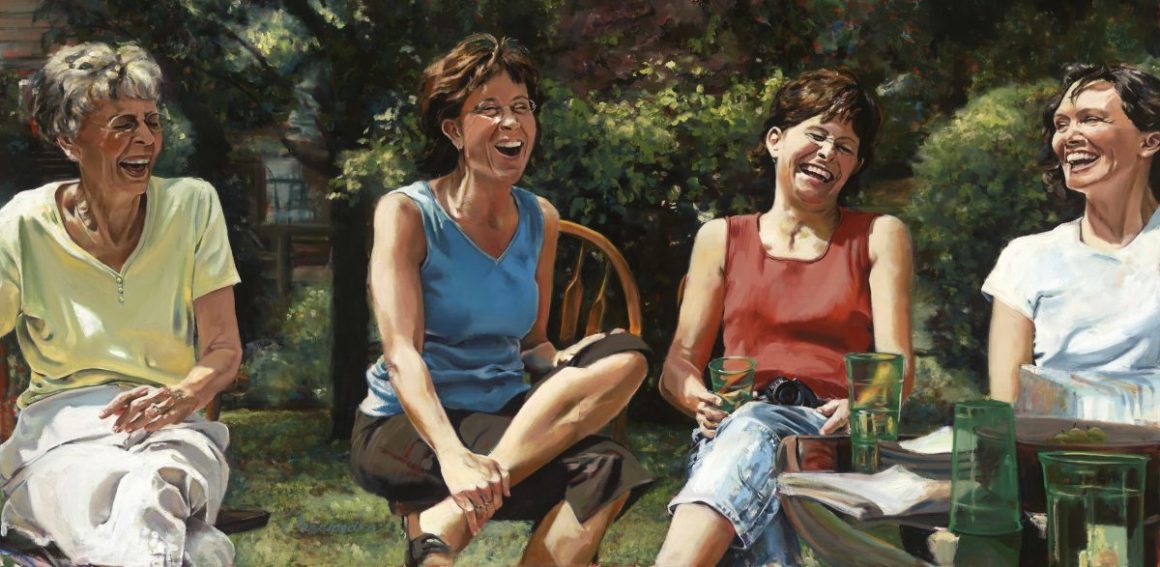 I painted this piece when our family was dealing with some difficult news.  Coming to my studio everyday to paint this piece reminded me daily of the joy that we can find in the simple things in life, like a good laugh and a smile.  This piece was shown in several shows, first at Artprize in Grand Rapids and was voted one of the top 100 favorites in a field of some 1400 entries.  Next this piece was invited to be shown at "Colors of Community" Exhibition in Allendale, MI. and finally before it returned to the lovely couple that purchased it, it was juried into the "Sense of Place"  exhibit at the Elmhurst Art Museum from a field of 400 entrants where 35 were excepted.  I have reminded myself that when I finish a painting, it is out of my hands and the piece  takes on a life of it's own and surely this piece, called "Best Medicine"  has definitely  done that.  Below is the artist statement from the "Sense of Place" exhibit.
"Sense of Place" brings my mind immediately to a place where there is family, where I know I always belong and have a place.   My piece "Best Medicine" is a multiple portrait of my mother, two sisters and myself sitting outside in our backyard in the Chicago suburbs the day after one of my daughters' weddings. To underscore that these women are and were representatives of my first primary relationships, they are painted in the three primary colors, my mother in yellow and my sisters in red and blue. Using both indirect and direct painting techniques, the figures are placed evenly across the space of the canvas, and by being represented in general equal proportions, they symbolically, equally, share the experience of finding great pleasure and humor in some comment or situation that the viewer is unaware of. There is a universal desire to find a commonality and shared belonging with others, or sense of place, and in this piece, hopefully one can experience that sense of sharing with a smile that joins in with these women's unspoken levity. By the slight exaggeration of the head sizes of the figures, these women seem to be literally laughing their heads off: laughter, after all , is the "Best Medicine"!
The piece is sold but giclees are available in a variety of sizes!
| | |
| --- | --- |
| SIZE | 72″ x 36″ |
| MEDUIM | oil on canvas |
| AVAILBILITY | Giclees are available in many sizes |